Coaching & Mentoring Through Change
Encouraging you to realise your potential and broaden your thinking in order to realise greater change results
We offer both coaching and mentoring bundles that facilitate your growth and unleash your potential to handle organisational change.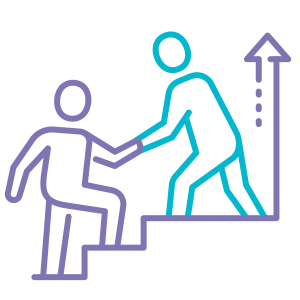 If you are involved with an organisational change that could benefit from external expertise, or an alternative perspective, mentoring could be a great choice. Through mentoring you would gain a thought partner who would build upon your ideas and help you work through the challenges you're facing. Mentoring can boost self-confidence and be a great source of encouragement and fresh ideas. Mentoring can either be individual or group based.
If there are specific skills or behaviours you wish to develop that you believe would increase your own ability to lead, manage or influence change, coaching could be the right choice for you. We all have goals we aspire to achieve, challenges we're facing and want to overcome, and at times we feel stuck. Coaching provides a thought-provoking and creative partnership that can inspire you to unlock untapped sources of potential, overcome obstacles and achieve amazing things.
We would discuss and agree upfront the appropriate length of mentoring or coaching programme for you. This usually depends on the change that you're managing with mentoring or the skills or behaviours you're looking to develop with coaching. Mentoring and coaching can be done both face to face or virtually.
Please get in touch if you would like to talk about how coaching or mentoring could support your organisational change