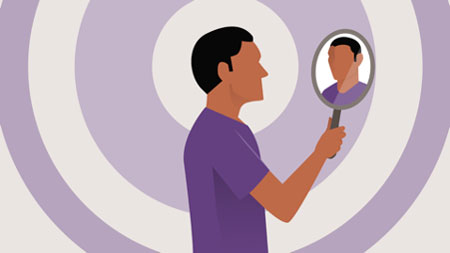 CHANGE STARTS WITH YOU: THE POWER OF SELF–AWARENESS
If asked if you were self-aware what would you say?  I would hazard a guess that most of you answered 'yes', or at least thought you were relatively self-aware. However, research has found that even though most people believe themselves to be self-aware, in fact only 10-15% of people truly are. It seems self-awareness is a rare quality, which is a shame given the proven benefits to individuals, teams and organisations.
In this blog, we look at why self-awareness is a key attribute to successful change and the wider benefits it brings. We'll explore what self-awareness really is, why it can be so difficult to develop, plus give you some tips about how to develop your own self-awareness and self-awareness in others.
THE BENEFITS OF SELF-AWARENESS
"KNOWING YOURSELF IS THE BEGINNING OF ALL WISDOM"
ARISTOTLE
You may think that self-awareness is one of the latest management buzz words, a bit of a fad, and not something you've paid too much attention to in the past.  Would it be of more interest if you knew that studies had found self-awareness to be the strongest predictor of overall leader success and a critical capability for us to develop? Plus, self-awareness, or the lack of it, has been found to impact a company's bottom line. Korn/Ferry International found that companies with strong financial performance tend to have employees with higher levels of self-awareness than compared to poorly performing companies.
When it comes to personal and organisational change, whether you are leading it or part of it, self-awareness is critical. Without it, any attempt to alter our own, or others, behaviour, attitudes, or ways of working will most probably prove fruitless.
When we see ourselves clearly, we are more confident and more creative, we make sounder decisions, build stronger relationships, and communicate more effectively. With greater awareness comes a more open and objective perspective of the world, compared to lesser awareness which leads to a more closed, constricted, and biased point of view of yourself and others.
"YESTERDAY I WAS CLEVER, SO I WANTED TO CHANGE THE WORLD. TODAY I'M WISE, SO I AM CHANGING MYSELF"
RUMI
One of the biggest misconceptions about self-awareness is that it's simply knowing your strengths and areas for development. Self-awareness is far more than this. It's the habit of paying attention to and trying to learn about how you think, feel and behave. A definition I find useful is that self-awareness is having a clear knowledge of who I am, how I work, my preferences, my style and approach, and the impact I have (Cheung-Judge, 2010).
People who are self-aware look for patterns in their perceptions, attitudes, beliefs, feelings and mental states. They consider their actions, reactions, interactions, behaviour, and thoughts. They understand their habits, tendencies and engrained ways. They are clear about their potential bias and prejudices. They notice their emotions, their triggers and how these can change under certain situations such as stress or pressure. Those who are self-aware take the time to understand how they are perceived by others and the impact they have.
Understanding yourself can bring great confidence and increased self-esteem.  Knowing yourself to this extent enables you to be authentic, creates trust and builds respect.
WHY IS SELF-AWARENESS SO HARD TO DEVELOP?
"YOUR PERCEPTION OF THE WORLD IS A REFLECTION OF YOUR STATE OF CONSCIOUSNESS"
ECKHART TOLLE
One of the reasons self-awareness has been proven to be such a rare quality may in part be down to the challenges that surround developing it.
We do not see things as they are, we see them as we are: There are so many interwoven factors impacting how we think, feel and behave. Our upbringing, our heritage, our experiences, the cultures of the places we've worked, and multiple others, all play a part. We are part of our own system of how we see the world, which makes it challenging to step outside of that and look at things objectively.
We only know what we know: Increasing our self-awareness requires us to explore the things we're conscious about and that are known to us. As well as tapping into our unconscious and the things that we hadn't known, had ignored or been blind to.
Experience and power hinder self-awareness: Just as experience can lead to a false sense of confidence about our performance, it can also make us overconfident about our level of self-knowledge. The more power you have, the more likely you are to overestimate your skills and abilities.
Confirmation bias: Human nature means that we have the tendency to interpret new evidence or search for data that confirms our existing beliefs. This bias can degrade or prejudice our judgements and lead us to misinterpret what is really happening.
It takes time and commitment: Developing self-awareness is hard work and requires a willingness to address the challenges and opportunities in learning about yourself, which takes a degree of personal courage. It's a continuous practice, not a one-off task, like developing your stamina or building a muscle.
ways to develop your self-awareness
"THE CAPACITY TO LEARN IS A GIFT,
THE ABILITY TO LEARN IS A SKILL,
THE WILLINGNESS TO LEARN IS A CHOICE."
BRIAN HERBERT
When we're not aware of our own habits, biases, and reactions, we no longer control them; they control us. Here are a number of tips and ways you can build your own self-awareness and help others to develop theirs.
Create the time and space: Life is fast-paced, we're constantly running from one thing to the next and juggling multiple balls. But developing self-awareness requires reflection. Build-in downtime throughout your day where you can find a quiet space to think.
Start a journal: Consider starting a journal to write down your reflections. Looking back at this will help to identify patterns and habits.
Develop Mindfulness: This isn't about sitting cross-legged and humming, it's paying attention in the present moment. When you're mindful you pay attention to what's going on inside and around you as things arise.
Actively seek feedback; Listening to others will provide a different perspective, lessen your blind spots and increase your consciousness.
Explore personal values; Identifying your personal values, the things you hold dear and are important to you, will help you understand why you make the choices and decisions you do, and why other things may result in tensions or conflict.
Complete a personality type indicator; A good starting point to building self-awareness can be understanding personality types, through tools such as MBTI, which provides a positive framework to explain how we interact with the world and each other and provides insights into our motivations.
Self-awareness is a foundational feature of our work. If you are interested in developing your own, or others, self-awareness, and would like to learn more about our developmental experiences, or the MBTI personality type indicator, please get in touch.